What will the BBN Exchange be like? Am I going to have a project to work on? What will my colleagues be like? Did I pack the right clothing for the weather in Sweden?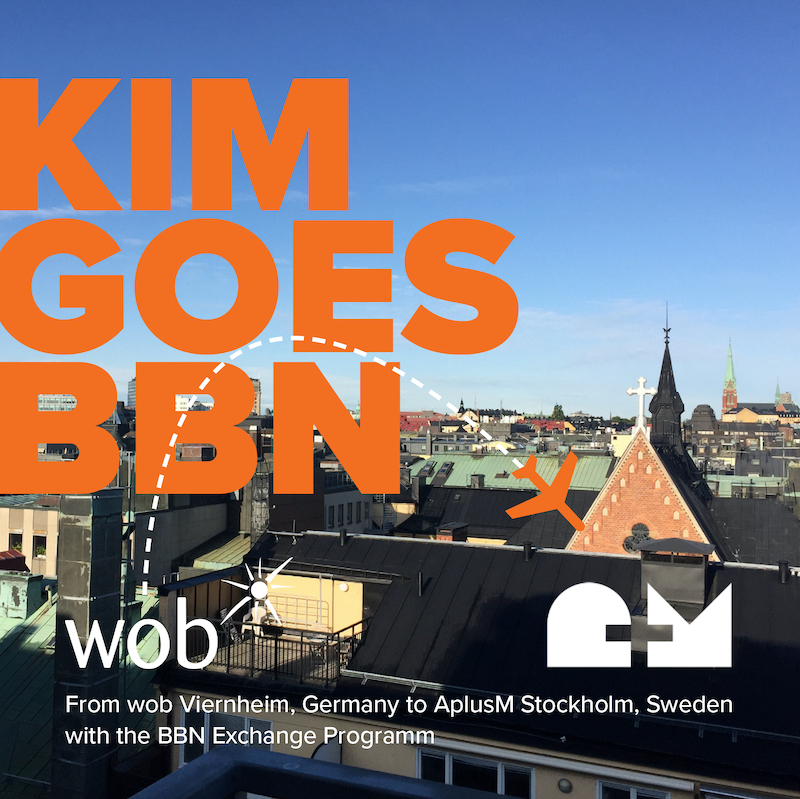 As a collaborative agency organisation, BBN is an international partnership where everyone shares the same real passion for B2B marketing. The combination of knowledge, experience and understanding of communication in the industry is second to none. Through this collaboration and the resulting common advantage, BBN can significantly influence what can be achieved when one company talks to another.
With my luggage gathered, I moved to the bus station to finally get to Stockholm Central Station where Erika and Sara were waiting for me. I only knew them from a short Skype call a few months before the Exchange where we had discussed the most important things. So, I was in a foreign country with more or less strange people. However, the bad feeling disappeared relatively quickly after I had finally found them at the central station in Stockholm. After a warm welcome, we loaded my luggage into the car and made our way to my accommodation.
In the car, Sara told me, that my apartment is very close to the Central Station and that she lives not far from my "home", so the drive took only 5 minutes. With a big loud "hello-bark" Zelda (my host's dog) welcomed me in the apartment. I put down my luggage and Erika invited me for a coffee nearby. The first meeting consisting of conversations about our free time and what was planned for the next two weeks in the agency proved to be a successful start and the unpleasant silence, I had feared, did not arise.
In the morning of my first day, Sara picked me up from my apartment and drove me to the office. During the journey, she told me, that there will be a meeting with a new client in the afternoon. The client was Janna, a friend of Sara and an artist who needed a website and some printed advertisements. Sara said she wanted me to be the head of the project and that I handle all the necessary activities. After that short, but very interesting conversation, we finally arrived at the office. We had to enter the building by a car elevator, that took us to the parking lot. I had never been in a car-elevator before and got a bit scared when the walls started to move and finally, a voice told us, we had arrived at the parking lot.
Finally entering my new office for the next two weeks, I became a bit nervous meeting my new colleagues. Sara showed me my workplace and offered me a cup of tea. She took me to the rooftop where I met Jan and Johan (very hard to hear the differences between these names when they were introduced in English) the founders of A+M. Before the Monday morning meeting, we had some small talk where I found out that Jan lived in Bensheim as a student, which is very funny because my hometown Heppenheim is right next to Bensheim. In my home agency, we usually have a short meeting every morning to discuss what everyone currently has on the table and what jobs might need to be taken over if a colleague is on holiday or sick. After that, Sara started to talk about jobs in progress and who had which things to do. When we finished the meeting, I started to check out my workplace and change the computer language to German, so I could work with it in my native tongue.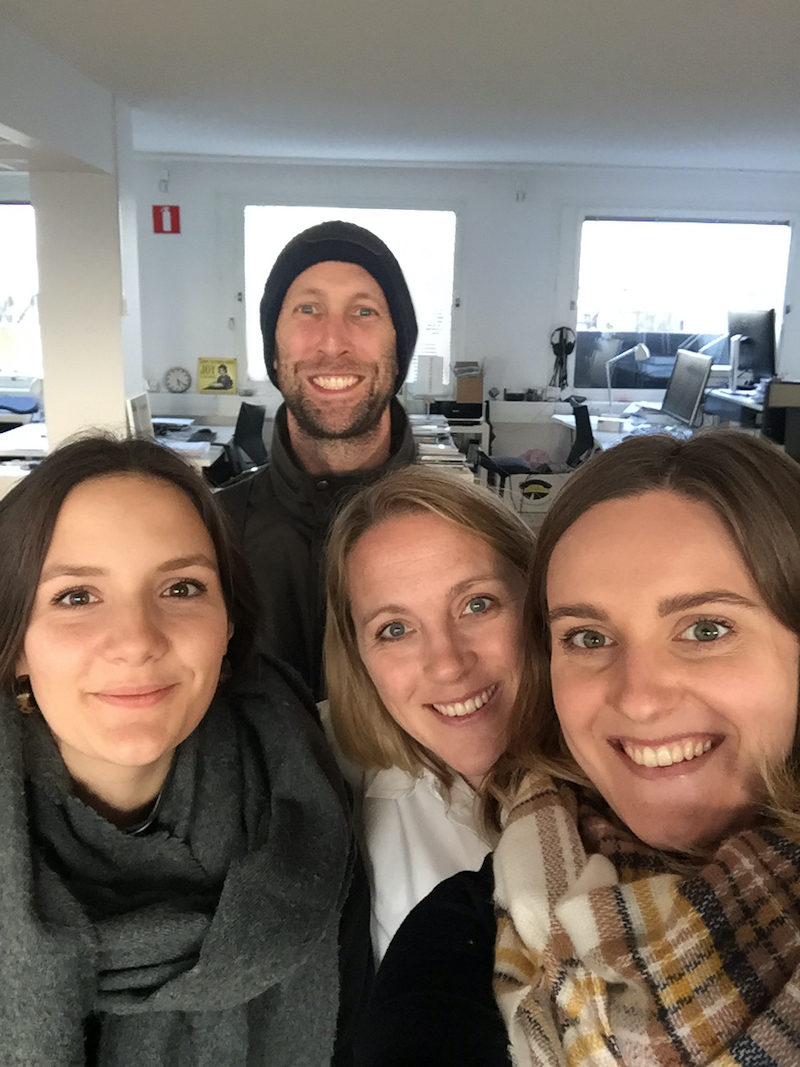 At wobAG I work in the media design department. Here we work on layouts that have been developed on the basis of the customer's Creative Design (CD) manual. We also work a lot with image editing programs such as Adobe Photoshop to perfect visuals for the customer's needs. In addition, we are the last in line before work gets sent to the printing company. That's why it's very important that we check the content carefully and adapt it to the CD manual specifications. So, I started with a familiar task and made some corrections to the "BBN Annual Report", that A+M had been working on until my first official customer meeting was to take place. In the meeting, it turned out that the client, a friend of Sara's, would like to have a complete website to sell her works of art via an online platform. As already mentioned, my area of work is more print. Therefore, it was a big and interesting new challenge for me.
I started to think about what a well-structured website should look like, in order to get an overall impression of the size of the site. Over the next few days, I worked out a concept for the website and started with the first layout designs in order to coordinate them with the customer. Afterwards, I could start to finish the layout and eliminate all ambiguities. This task took over the full two weeks that I was at A+M in Stockholm. The week continued with working on the web design and making some corrections on the "BBN Annual Report". One day I sat in another client meeting. The client wanted to have a PowerPoint presentation for a meeting the next day. He gave me the main points and the important things for the presentation and said, "It doesn't have to be the ultimate presentation, it should just look better, than the presentation with the information he gave me". I decided to split the main points into a sort of mind map in order to highlight all the important content.
One evening I had my first visit to a Swedish cinema. Sara and I watched "Downton Abbey", a film, based on UK TV series of the same title. Sara explained that every movie and every series in Sweden (except those for children) is shown in its original version with Swedish subtitles. Which was lucky for me, otherwise I wouldn't understand a word of the whole film. Before the movie started Sara took me to a 24/7 grocery store called "Seven eleven" to buy typical Swedish sweets. There was a wide range of the most different liquorice variations, fudge with marshmallow and chocolate coated, Daim, sour gummy bears, something like Jellybeans and a lot more. Sara took a small paper bag and filled it with sweets, which, in her opinion, I absolutely had to try. Also, I was very sad that there was no sweet popcorn at the cinema. Apart from salty popcorn, cheese flavoured popcorn or bacon flavoured popcorn and pre-packaged "Werthers Originale" caramel popcorn. So, all in all not necessarily what a German moviegoer likes to nibble during the film. It was also unusual that at the beginning of the film a cinema employee stepped in front of the screen and wished all viewers a pleasant experience and briefly explained where the toilets could be found.
On my first Friday in Stockholm Erika and I went to a pub after work to have a glass of wine and a nice talk about what we are usually doing in our time after work, what differences I saw so far between Sweden and Germany and how our education systems worked. We talked about different muses and what I wanted to see in Stockholm and planned to visit the "Fotografiska" on Sunday afternoon. I decided to have a tour through Stockholm with the Hop-on-hop-off buses, to have at least a little impression about Stockholm's beauty. My first stop was on a smaller one of Stockholm's islands, where a government building and a small park pointed the way to the Royal Palace. I arrived just in time for a change of guard at the palace and could see the young soldiers, armed and in uniform, exercising in the narrow square in front of the main portal. My route led me along the busy main road and a part of the harbour past the palace and towards the entrance of the publicly accessible palace chapel. The many golden ornaments on the walls and the ceiling made the appearance of the rather small church very impressive. Since on this beautiful, quite warm and sunny Saturday many tourists were on their way in Stockholm, I decided not to buy a ticket for the royal apartments and the treasure chamber and continued my tour in the beautiful old town.
The crowds of people carried me further into the inner part of Old Town and more and more I asked myself whether I had just made a leap in time. There were groups of people all around me, dressed like in the 20s. At first, I thought maybe there was a dance performance somewhere or something for which the performers had already moved. But when Sherlock Holm's caps and whistles and even a family disguised as "Scooby Doo" appeared everywhere, I couldn't help asking a group of young women what this is all about. They told me that every year in Stockholm there is a kind of "Live Cluedo" where groups can register and catch a murderer with the help of various puzzles and tasks spread all over the old town. As the participants always have a lot of fun, and this year's event took place in the 1920s, many of them dressed up to match the scenario. A quite funny idea in my opinion, where you can see that the city does something for its fellow citizens and that people can work together for one project and have fun with it.
A little anecdote at the end:
On Tuesday evening Jan took me to one of his leisure activities: Krokin. He asked me if I was interested in coming and explained that it was model drawing. Since I had never done anything like this before, I agreed and was curious to see what awaited me. We arrived at a house of art and waited until all had taken their places. Little by little the room was filled with people who unpacked their various painting tools and prepared themselves for the Krokin by sharpening their pencils, preparing paint pots and fetching water. A young man appeared, dressed only in short sports pants and explained to us, that he would now pose 5 times for 2 minutes, 5 times for 5 minutes and once for 10 minutes. He then proceeded to take off his trousers completely and went into his first pose. I was a little uncomfortable, to begin with, but after everyone started drawing, I just grabbed my pencil and started drawing too.
So, what was the BBN Exchange like for me?
The focus of the exchange for me was to see how Swedish colleagues work on client projects. Which methods they use to arrive at the result is rather irrelevant in this case, since, as the old proverb so nicely says, many roads lead to Rome.  It was interesting and reassuring to see at once that the colleagues proceed very similarly to us when it came to corrections from the customer. In our case, 99% of the corrections are written by the customer in a PDF, which he has received from us beforehand.
Since I am not involved in the big development processes of creative campaigns in my home agency, I was able to take a lot with me through my own client at A+M. Thanks to my dear and very helpful colleagues and their feedback, I was able to satisfy my customer with a successful web layout. During this work, I learned a lot about the planning and branching of a website and how far you have to get into such a project to get a good result.
A+M in comparison to wob AG is a smaller agency, which was clearly noticeable in the way they worked together. At home we always help each other or ask questions if something is unclear. However, this is almost always done via technical channels such as Microsoft Teams, Microsoft Outlook or the good old telephone. At A+M you simply call across the room, as all colleagues sit together in an open-plan office.
All in all, it was definitely a very instructive and interesting exchange for me, I made great memories which I'll remember for a long time to come.