"Your smile is your logo, your personality is your business card, how you leave others feeling after an experience with you becomes your trademark"
-Jay Danzie
The same goes for brands.
Your brand is the foundation for trust and loyalty and the engine for growth. It is the platform for your entire business
The way a brand acts should stem from a clearly defined brand purpose. Understanding why your brand exists and what impact your brand has on your customer will ensure you connect with your customer in a relevant way. And this brand purpose needs to be driven through the entire organization so that when someone meets your brand, at whatever touchpoint, the interaction is consistent and is representative of the brand.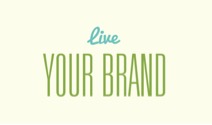 As such, customer service representatives need to "live the brand". They are a key component of the overall brand experience and can't be forgotten. A brand isn't a logo, a jingle or an advertising campaign, nor is it just about the products or a description of what a company does or provide. A brand is all-encompassing. It is essentially a promise – what a company promises to deliver on both an emotional and functional level to those interested in it.
Every experience a customer has with a brand creates an impression, and this impression helps formulate an opinion. And these opinions are lasting. Brands both big and small should never lose sight of this, as one bad experience can lose a customer forever; you're only as good as your most recent interaction. All things being equal, customer service could be the deciding factor of whether a sale occurs or not. And with the explosion and impact of social media, the experience isn't just a "one on one" – it's shared with potentially millions and can impact all those who are considering purchasing in the future. During the initial stages of the buyer's journey, customers do a significant amount of upfront online research that will influence their buying decisions. With tight budgets, intense competition, a more educated and discerning customer, and the wildfire effect of social media, brands can't afford NOT to put the customer first. And with so many choices customers are just not as loyal as they used to be and are far more demanding and vocal about poor service.
Empowering employees on the front line to act on behalf of the brand and ensuring the brand values are instilled is far more effective at creating affinity for your brand than having your customers go through hoops and several layers before somebody actually listens. The way a Customer Service representative handles a situation will impact brand perceptions.
Two recent experiences drove this home – with an independent retailer and with 2 larger brands. Having purchased two sport watches at a popular Toronto Sporting goods store, the product did not deliver to satisfaction. There was nothing wrong with the product per se – it just didn't live up to performance expectations and some of the functionality it offered and promoted was inaccurate. Because this store has built its reputation on selling and standing behind quality and great brands, I emailed customer service to see if there was anything they could do for me. Customer service responded immediately (10 points!) and directed me to the store to speak to a Manager. So I did just that and explained the situation to the Manager who in turn walked me over to the counter and provided me with a full refund! No questions asked! I left with my faith restored in customer service and given a "choice" I would be more inclined to purchase items there before going to a competitor. This experience made me feel like a valued customer and supported the store's purpose of enhancing its customer's active lifestyle by offering quality products and well-known brands.
On the flip side, the opposite occurred when dealing with two large electronics/technology companies – where in one case, hours were spent on the phone, speaking to countless customer service reps – each of whom could or would do less than the next – and in one particular case, their response was ludicrous. At that moment, the frustration experienced was transferred directly to the overall impression of the brand influencing my next purchase, and for me, overshadowed their offering. While these companies most certainly produce innovative products, they need to understand their higher-order purpose of the impact they want to have on their customers and live up to it, not just with products.
One could argue that innovative products and price may be the ultimate driving factor in making a sale regardless of poor customer service, however, I would argue that products get "commoditized" and replicated all of the time, so customer service could be a differentiator. The post-purchase experience can often influence subsequent purchases, so companies need to understand the impact every interaction has on the loyalty loop of the buyer's journey.
In her post on Impact blog, Rachel Miller states, "Providing consistent messaging and consistent customer experiences across all channels is critical in today's era of corporate transparency. Educate your employees, and educate your customers. Consistent world-class customer experiences are deliberate and necessary for success"
Therefore, defining a clear higher-order brand purpose and ensuring this permeates your company's philosophy and actions will help ensure the buyers' journey is an ongoing cycle and will drive affinity for and loyalty to your brand.
If you want to learn more about the value of your brand, subscribe and read our eBook