Did you know that almost 50% of buyers read 3 to 5 pieces of content before reaching out to you and consider a purchase?
That's right, because today, you can access a plethora of good content with the simple click of a button. Whatever question you have, how specific or complex it might be, type it into Google and you get a huge number of companies ready to help you with answers and good advice. But how will they find you and why should they pick you? Right! You need a content strategy that focuses on attracting and building the trust of your ideal buyer. And blogging is a great tool for that.
"I am not sure that I need a business blog"
That is probably what most b2b business owners and marketers might think at first. Probably because somehow, today, the term "blogger" comes with a connotation. When we hear "blog" we picture fashion bloggers, vloggers, influencers… attention seekers creating content in exchange for free designer clothes and exclusive parties. And yes, you have some of these characters around. But in essence, a blogger still is someone who is passionate about a certain topic, who writes for the internet, sharing experience and knowledge.
The reason you are reading this blog post, is probably because you were looking to find ways get better at your job, to be inspired, to know more about new concepts for improving your marketing performance. And many, many others with different jobs and challenges will probably do the same as you do. So, why not share your knowledge and offer a helping hand? In my opinion, that's the real purpose of blogging.
How will I benefit from blogging?
A business blog is an important tool to the attract stage in the inbound methodology. Remember, the goal of inbound marketing is to attract the right people to your website, convert them into leads, that ultimately will become happy customers.
Now, how do we attract the right people? By providing content they need at the right time. And that is where blogging comes in as a key marketing tactic for your business.
It helps drive traffic to your website
"Websites with a blog tend to have 434% more indexed pages" source: techclient
Have a look at your website and check how many pages it has. Probably not many. And how often do you update those pages? Probably a few times, isn't it?
Now, every time you write a blog post, search engines will index this page on your website. As a consequence, it is an extra opportunity to show up in the search results and lead traffic to your page. Moreover, a blog is easy to share through your social media channels like LinkedIn, Twitter or Facebook, which are ideal for reaching new audiences that you don't know yet.
Convert traffic into leads
Each blog post is an opportunity for conversion. In general, people visiting your blog through a search engine are more likely to convert than via other channels. According to HubSpot, people coming through a search engine have a 14.6% close rate, which is outperforming the close rate from outbound leads (e.g. direct mail) with an average 1.7%.
Yet, 85% of your blog readers will not become a lead, but of course, you can't expect all readers to convert after reading your blog.
Show leadership
Many b2b companies try to convince leads with their USP's: "we offer world class service!", "Cutting edge technology", "experts", "high quality services…" But far more effective is showing why you are so good at a certain thing, by sharing your expertise and knowledge. By doing this, you don't just say you're the best, but people can experience your authority in a certain business.
The best business blogs help customers and leads with their specific challenge or question, the typical "how to" or "why…" blogs. These kind of blog posts are very helpful as sales enablement drivers, because they offer answers to common questions from people at your company.
People will more likely come into a sales process and trust what you say when you've helped them before. Moreover, sales will have an easier job because qualified leads will be more educated about your expertise, industry, solutions… and can re-use blog content during sales discussions.
It keeps on giving
Honestly, writing a good blog takes time and some skill, especially if you've just started blogging, but it is worth every penny. Why? Well, as soon as you publish your blogpost, the content will rank on search engines and start attracting traffic to your blog. You'll probably generate rather a modest number of visits at first, but it is there to stay.
As people will keep on looking for content on your blog, it will continue to attract visitors for days, months, years… Over a longer period of time, you will attract a huge number of views on top of the new content that you keep posting on a regular base.
---
How do I start?
You need a plan
Before you start writing blog posts, you need to know why people should come to your blog and who should be reading your blog posts.
First, you need to define why someone should come to your blog. What's the purpose of the blog? Why is your content more relevant or interesting than from other sources? Why should people read your blog?
Next is "who", what is your audience? A good starting point is your buyer persona. Persona's are semi-fictional representations of your ideal customer based on real data and some select educated speculation about customer demographics, behaviour patterns, motivations and goals. Feel free to use our buyer persona templates to define your target audience.
You need S.M.A.R.T. goals
S.M.A.R.T. goals are specific, measurable, attainable, relevant, and timely. Think about goals like:
Goal 1: Organic traffic
Organic traffic, or non-paid traffic from search engines, is the probably the most common goal for business blogs. An interesting benchmark, especially when you're focusing on attracting more readers.
Without readers, you have no leads, customers, and promoters. So, what is a realistic goal then? Well a good rule of thumb is increasing search engine traffic to the blog with 6% per month.
The reason why is that if each month you increase with 6%, you will total a 100% in one year. To give your traffic an extra push, you could consider promoting your content through ads or through your social media channels.
Goal 2: Email opt-in
Another metric is the size of your email list. You may ask readers of your blog to opt-in for notification emails when new content is available. It will pay off later in ongoing traffic to your posts. You should be satisfied if 20% of your incoming traffic is willing to subscribe to your email newsletter.
Goal 3: Content creation
You will only be able to increase the monthly traffic to your site if you succeed in attracting a consistent stream of people through search engines and let them signing up for an email newsletter. People only do this if you have high quality content. So how many posts do you need? First, you need to set some realistic targets. You could try to begin with one blogpost every fortnight. Some might try to go for one blogpost per week. Just bear in mind, quality is still your main focus, not the sheer quantity of blog posts. Better one good blog post every month than 4 average ones.
Assume you go for the 1 blog post every other week, you'll end up with 26 posts in one year. Once you have a descent number of blog posts, you could consider to cluster them into cluster topics and point it to a pillar page about a core topic. Another tactic is to repurpose some of your content: turn a blogpost into an infographic, presentation, ebook, podcast, a daily mail series…
Goal 4: Connect with industry leaders
You probably know who are thought leaders in your industry. Why not to find a way to work or connect with them? How? You can try to reach and let an industry influencer know that you are working on a certain piece of content and that you would like to use a quote of a statement from them in your post. As an objective you could consider connecting with one new influencer every 1-2 months. It will make your content stronger and industry leaders contributed to it, chances are likely that it will be shared with their own network.
Do your research
How exceptional and creative you might be, it is very likely that people already have written about the topic you want to write about. The easiest way to find out is to use google and look up the keyword or topic, which you want to write about and see what's ranking very high.
This works because Google ranks content based on searcher intent. This means that Google will try to offer the very best piece of content for what you are looking for. In that sense, you know what's already getting offered because this is what Google thinks to be the best match for this searcher intent.
Now, obviously you don't want to say just the same thing that's been said before so you need to dig a bit deeper into those top 10 results. You can use a spreadsheet with the following columns and fill it out for each search result listing:
Rank
Page title
URL
What do you like about the content, how could you maybe improve that content and how could you provide new value or meaning to it.
Assign resources
Writing blogs is not an easy task, you need enough time and skilled resources to make it happen. Two solutions: either you have someone in-house, who has writing and (online) strategy skills, or you could outsource it to a specialist (freelance or agency)
Either way, you will need to brief that person with the purpose of your blog, the persona you want to attract and the objectives you have in mind. Also, plan and create tasks for the creation of your blog posts, this will avoid procrastination.
Use topic clusters
Remember, the goal is to show up in search engines with quality content and to attract new visitors to your website. To help getting more pages on your site to rank on search engines, we strongly recommend implementing the topic cluster methodology. It is a way to organize and link URLs together around a certain core topic and by doing this help searchers to find their information more easily.
You need 3 things:
Pillar pages, a page that covers a broad topic in depth and links to a cluster of related content (blog posts, landing pages, content offers…). You make this pillar page the ultimate go-to-page with loads of quality content about a specific topic.
Subtopic content, is a number of content assets that together, form a cluster of relevant content around your pillar pages. This includes blog posts that focus on more detailed, longer-tail keywords.
Hyperlinks that connect the cluster of related content together. Not only should you link from your pillar page to all your subtopic content but also, your subtopic cluster should also point to your piller page. By doing so, you will pass more authority to the page which leads to a better search engine visibility.
Bring your blog to life
Next, is the setup of your blog:
Choose a blog template
You can use many platforms to create your blog a WordPress blog, HubSpot…they also come with templates (some are available for free) that you can adapt according to your style and company colours.
When looking for a blog template to use, first, check if the template is responsive.
Add sharing buttons to your posts (social media, rss, email)
Sometimes a good quality blog post can become a very long read, in that case you could add a table of contents with jump-to links that lead to specific sections in the post. It will allow readers to skim your page's content easily.
Next to your choice of your template, you need to decide about a style for your blog. One good thing to know is that in general, people going to the blog are not there because of the nice design and colours, but the come for the blog content. So simplicity is key and will help the readers to focus on content. Every blog post should have a Call To Action (CTA), either a CTA button, text or image CTA.
Create a listing page.
The blog listing is an overview of all your blog posts. Typically, the blog's homepage is the listing page so when someone visits the blog, they see the title, author, image, and preview of the blog post.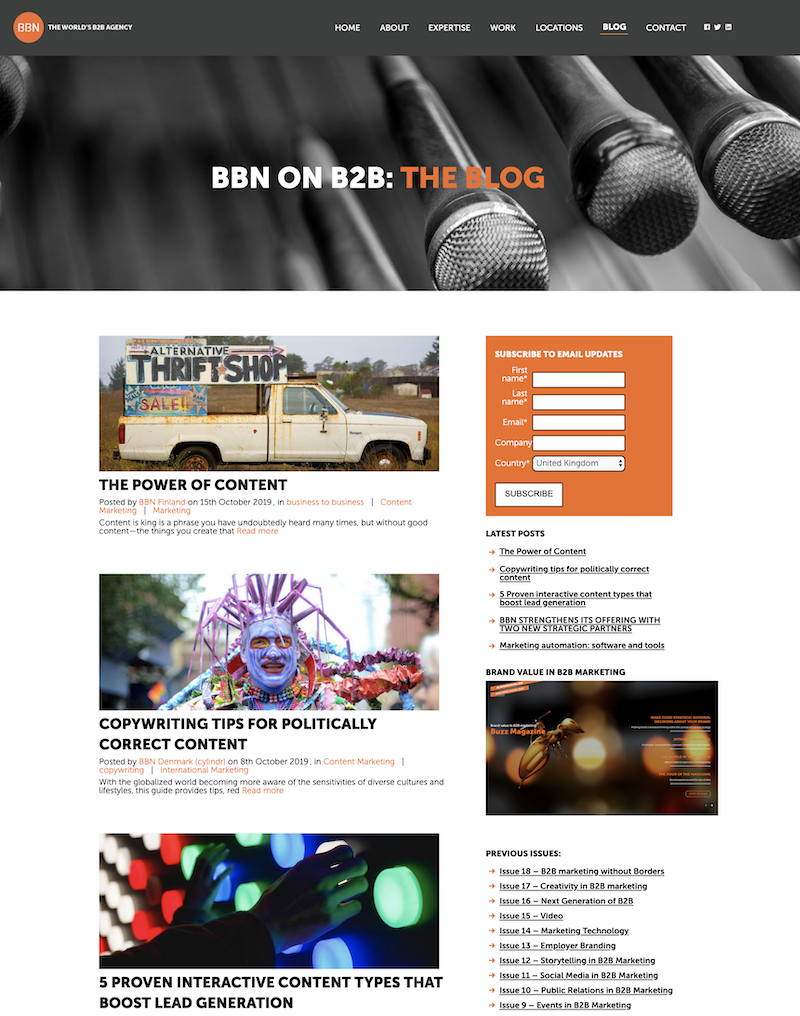 What else should be on your listing page? Consider:
Adding a blog subscription CTA near the top of the page.
Keep the preview text length up to 100 words or to two short paragraphs.
Using descriptive images (featured image)
You could add how long it takes to read the article
Use category tags
When you start tagging your blog posts, you need to know that these tags will be used for your blog posts to come. Choose the least amount of tags that you need, you can always add more in the future. A good start is to keep your blog tags under 15.
Make author profiles
Add Author bios on the blog. It has some SEO value by offering links to key content on your website. You also might consider dedicating a site page per author and show other posts from the author. What do you write in the bio? Blog author profiles shouldn't be too long. You are set with a few sentences on the author, a helpful link, and how to find them on social media.
Add a blog subscription
Remember, one of the objectives is to increase the number of email opt-ins. A subscriber form allows people to quickly provide an email address and sign up for your email newsletter. Once you have your email list, you could offer a quarterly or monthly newsletter round up of your best blog posts.
Get started now…
Now it is time to get your blog started. Keep our advice and tips in mind as you start blogging and change your b2b website into a revenue-generating machine.
If you're looking for some assistance with starting your blog, or you want to know how to write a blog post? Just contact us for a free consult call with a BBN content specialist.