One of the pervasive problems affecting B2B organizations of any industry, size or geography is the lack of integration between their Sales and Marketing teams.
In this piece I share 7 (+1) ways, that in our experience, can help any B2B organization to align these complementary stakeholders:
Sales and Marketing should plan together. They must be placed at the same level and recognized as the two sides within one business strategy. Although this sounds obvious, we constantly encounter Sales Strategies and Marketing Strategies being planned, approved and executed in silos.
The social contract between Sales and Marketing: both teams need to agree on what a lead actually is (beyond MQLs and SQLs) and agree on specific KPIs in order to formalize how many leads the team will have to identify and qualify and also how and those leads will be acted on towards conversion. KPIs ought to be agreed on, realistic and aligned with business objectives and as importantly, to the customers' decision-making process. Furthermore, this contract will also include feedback mechanisms so that the team can learn through optimization and iteration (instead of pointing fingers).
Go beyond buyer personas: discuss, based on research and competitive benchmarking, a portfolio of value propositions that are both valuable (beneficial to the end user) and relevant (can lead to a long-term relationship, i.e. trial offer).
Develop playbooks to properly enable and align the team (including channel partners) during the whole buying cycle. Playbooks should range from key messaging in mass communication and social media to scripts and sales enablement materials for sales reps.
Integrate data analysis. This means integrating sales and marketing information so that we can focus both on new business opportunities but also existing clients. The ultimate goal of this integration is to increase the Lifetime Value of all the clients (LVC).
Establish formal and constant communication (with a set agenda, schedule and next steps). Weekly calls are preferable.
Rotate team members: one of the most common comments we hear is "the Sales team" or "the Marketing team" does not understand what we are going through and the pressure we are under. Empathy can be achieved by putting the team members in each other's shoes.
+1. A key role of Leadership within the organization: the only way that this integration can work is with the buy-in and constant fostering from the organization's leadership.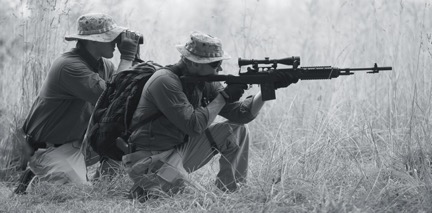 Since strategy is a skill derived from the military, I would like to conclude with a visual metaphor that shows the subjects playing a different role but with the same objective – to hit a target. The soldier on the left is the "spotter" who directs where the shot needs to go (the Marketing Department). The soldier on the right is the "sniper", who takes the final shot (the Sales Department). Their roles are different but complementary. They also collaborate and learn as a team to improve their overall performance.
Thanks for the Photo Daniel Cheung on Unsplash