How to use FOMO to expand your email marketing
Make your email stand out in a crowd
Everyone has experienced the fear of missing out (FOMO) in one way or another. As a kid, it was about a special TV show that came on after school. In college, it was about a great party when cramming for an exam. Today, FOMO happens when your favorite musician is in town but your kids have a soccer tournament.
Marketers have taken FOMO to another level by applying the principle to emails to increase open rates.
If FOMO is your guide, subject lines should create a sense of urgency or curiosity, especially because it can entice the recipient to open your email in an inbox full of other emails screaming for attention.
When an email first appears in an inbox, targets judge its importance in the first five seconds. According to Convince and Convert, 69% of email recipients report email as spam based solely on the subject line. Another 35% of recipients open emails based on the subject line alone.
Below are BBN USA's top five ways to create FOMO in your subject lines to increase open rates instead of spam reports.
1. Get personal.
By nature, people want to feel a connection or feel special when they get a message. Using "You" and "Your" can increase your email open rates. Go one step further and include the recipient's name in the subject line. For example:
Impersonal: "Be a Better Marketer"
Personal: "Alice, be a better marketer"
"No matter your target audience, your recipient is human."
By adding the recipient's name to the subject line, the recipient does a double-take. As a marketer, you've gained the recipient's attention and sparked curiosity. No matter your target audience, your recipient is human. Companies like Netflix and Spotify have raised the bar in personalized experiences. Customers are consumers, too, and we've all acclimated to a world of customized playlists, targeted ads and curated offers. Personalization is an expectation.
2. Go for briefs, not boxers.
Subject lines with impact are purposely short.
"With 55 per cent of emails opened on mobile phones, the need for short, snappy subject lines is increasingly important (L2, 2017)
Part of mobile optimization is thinking strategically about how it appears in a phone's email inbox.
Lululemon saw a dramatic 38.5% increase in open rates on emails that had short subject line lengths in 2017. The company sent email subject lines between 21 and 30 characters, following best practice. Not only did these short subject lines gain attention by being short but also they challenged the company to analyze every word being put in the subject line, keeping the message clear. Keeping a message tight may have more impact, and being long-winded won't pack the same punch.
3. Don't be a sleazy car salesperson.
We've all received those emails that use spam words. You know, the kind that seems too sketchy to open. Your email will likely be registered as spam if you use all caps in subject lines. PLUS, IT LOOKS LIKE SOMEONE IS YELLING AT YOU.
While you want to create a sense of urgency, avoid using the word "Urgent" in your subject line. There's nothing truly urgent that's being sent by an unknown address. Another spam phrase to avoid is "Once in a lifetime offer." In general, always be wary of using hyperbole in your subject line. Grossly overexaggerating your offering is a clear sign your email will be considered spam.
Avoid overpromising because your goal is to create trust with the recipient in hope of a response.
4. Benefit your reader.
Clever subject lines can get your foot in the door. But sometimes what you think is clever, your recipient finds desperate. Constant follow-up emails with subject lines like "Did you see my earlier email?" and "I need an answer ASAP" can trigger such a reaction from your recipient that they become annoyed when they realize it's from a sender they've never met. It's also a sure way to land on the blocked sender list.
Instead, make your subject line about how you benefit the recipient. What's in it for them?
If you're sending an e-book, don't mention the content details. Instead, pivot and talk about how the content will benefit them.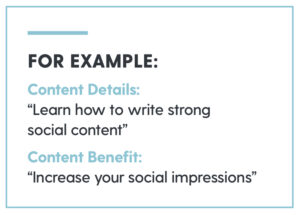 This example shows that a subject line highlighting the benefit of the e-book is far more interesting than learning about strong social content. The benefit of writing social content is the increase of impressions. Give your reader a result to focus on the ultimate prize.
It's human nature to ask "What's in it for me?" By focusing on your email's benefit, you help your recipient answer that question and increase the likelihood of email opens.
5. Phone a friend.
Time to test the FOMO method. When stuck with two subject line ideas, use the opportunity to create an open rate competition. A classic test uses the 10x10x80 rule. Send Subject Line A and Subject Line B to 10% of your email list, respectively. Based on the success rate of each subject line, you can send out the winning line to the remaining 80% of your email list. This is a great way to receive validation if you have a big enough email list to support A/B testing.
Make your email stand out in a crowd by applying these five tips. Maximizing the power of FOMO will set you up for email success.
Photo by Adam Solomon on Unsplash
This article was written by:
About the author

A member of the Bader Rutter Executive Leadership Team, David Jordan leads the BR Business Consultancy Group. The BR Business Consultancy Group consults with both inline and speciality clients ranging from Fortune 500 companies to innovative startups.
Do check out
Learn what ABM is – and why it's getting so much attention.
Hello!
SUBSCRIBE NOW.
1 email a month, EXCLUSIVE stories, and 10 minutes of your time.
Subscribe now