Account Based Marketing (ABM) is like getting an expensive Christmas present
You start off your Christmas campaign by identifying a generous uncle. Whenever he visits, you put on your best behaviour and you tell him all about that powerful new gaming console. You do this until he decides that the perfect present for his well-behaved nephew is… a new gaming console.
ABM in a nutshell
Is about identifying the right customer, engaging with them, and guiding them towards conversion.
 ABM – The Definitive Guide
ABM is essentially, a marketing technique borne out of necessity. It is primarily used by B2B companies to maximise their marketing efforts with their existing customer base—and is a technique that has continuously proven to be extremely effective.
ABM has been around for many years, but it's seeing a rise in renewed interest lately. This is in direct correlation with the rise of marketing technologies like marketing automation, targeted display advertisements or other digital tools that help make ABM much more effective.
However, ABM is much more than the technologies that make it simpler and more cost effective to implement. It needs in-depth strategic planning and guidance from marketers in order for it to be effective for your business and unfortunately there isn't a one-size-fits-all ABM strategy that can be applied to all scenarios or organisations.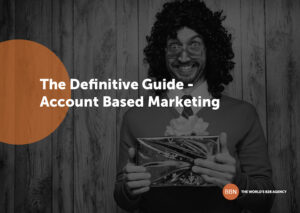 But we're here to help…download this ebook, which gives you a specific set of steps that you can follow in order to develop an ABM strategy that works for your organisation.
It will help you:
Decide if ABM is it right for you
Compile your target list
Conduct further analysis of your accounts
Plan an ABM workflow
Develop account specific messaging and personalised content
Deploy your content
Understand the benefits of ABM